Sign up for receiving the updates by email

here



1. Hyper IgE Syndrome: Lung features
2. Hyper IgE Syndrome in a cohort of Iranian patients
3. Biologics in pediatric severe asthma: PSA
4. New perspectives of childhood asthma treatment with biologicals
5. A novel cytokine IL-35 produced by Tregs (iTR35) cells has a protective role after sublingual immunotherapy




Hyper IgE Syndrome (HIES): Lung features
C. Kroner et al: Allergy 2019; ahead of print February;21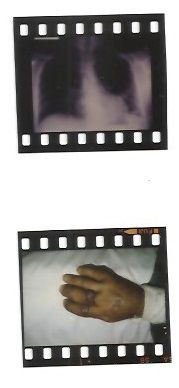 In this rare immune hereditary deficiency characterized by skeletal and facial malformations with high rate of serum IgE (more than 1000 U) and genetic mutation (STAT 3), the German authors followed 14 patients with lung complications responsible for high morbidity and mortality. A mixed restrictive-obstructive impairment appears early associated by Aspergillus fumigatus infection and large pulmonary pneumatocele requiring long term anti-fungal, antibacterial treatment and surgery which may lead to more complications (fistula). The prognosis of these lung disorders is bad despite of intensive monitoring and immunoglobulin replacement therapy which may temporarily stabilize lung function.
Here are photos showing lung infiltration and hand malformations.
Hyper IgE Syndrome (HIES) in a cohort of Iranian Patients
M.Tavassoli et al ; Ped.All. Immunol 2019; ( 23 February )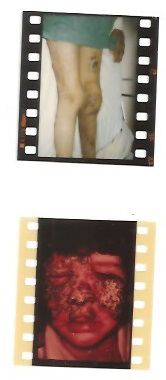 The great number of HIES patients (129) median age 14 years (9-24) allows a large clinical, immune, molecular and statistic study. 35 were actively followed up. Clinically facial malformations (Job syndrome) and recurrent skin lesions (eczema) are as frequent as lung infections. Genetics showed heterozygous STAT 3 mutations in 19 patients but homozygous DOCK8 mutations in 16 patients. It appears that the median serum levels are higher in STAT3 than DOCK8 cases (P= 0.02). Moreover presence of pneumatocele and hematologic complications are significantly more frequent in STAT3 deficient cases : (respectively P= 0.001et P = 0.002). Conversely eosinophils count are enhanced in DOCK8. This mutation is involved in cutaneous lesions (95% of cases) and in skeletal rearrangement. Stem cell transplantation may induce remission of eczema and skin disorders. Here, 2 photos of knee malformations and facial eczema.







Biologics in Pediatric Severe Asthma: PSA
S.Saglani et al :The Lancet Respiratory On line 26/02/2019

Despite the efficacy and safety of low to moderate doses of inhaled corticosteroids in children asthma, it remains a small group with severe and poor controlled disease. Extrapolation of adult data to guide using biologics for children is inappropriate and until July 18 the only biologic licensed for children was Omalizumab (Xolair®), after a trial showing its efficacy in children aged 6-16 years.

Mepolizumab (the monoclonal antibody to interleukin-5) (Nucala®) substantially reduces the frequency of asthma attacks in adults. Although adolescents (older than 12 years) were eligible for the trials, the actual numbers of adolescents included were small (about 30 of more than 800 participants). However, Mepolizumab was licensed for use in children aged 6–17 years by the European Medicines Agency in August 2018, despite the inadequate efficacy data in adolescents older than 12 years, and the complete absence of efficacy data in those aged 6–11 years. This decision of huge concern contravenes European Pediatric regulations. Although most children with PSA have steroid-resistant airway eosinophilia, which should respond to Mepolizumab, the circulatory depletion of these cells in children could be deleterious.

Finally, Benralizumab (Fasenra®), which targets the interleukin-5 receptor on eosinophils and basophils and results in complete depletion of circulating eosinophils, has been approved by the US Food and Drug Administration for children older than 12 years despite only 4% of all participants in the five published phase 3 studies being aged 12–17 years. Anyway, the British authors think that robust efficacy and safety data are surely mandatory before a pediatric appropriate prescribing of biologics. A multidisciplinary assessment like for adults, at a dedicated center which could help to identify remediable factors such poor adherence and improve quality of asthma control and ensure that patients are appropriately started on these costly biologics.


New Perspectives of Childhood Asthma treatment with Biologics
J.Just et al Ped.Allergy Immunol 2019030 159-171

For the pediatric French team, Asthma is a syndrome corresponding to different entities (phenotypes) and pathophysiologic pathways (endotype). In the small group of children severe asthma, it is also advisable to prescribe the most suitable treatment at an individual level weighing-up intensity of inflammation and co-morbidities. Omalizumab and, more recently, Mepolizumab are the first biologics approved for children (6 ‐18 years). Omalizumab is now widely used and highly effective for asthma exacerbations and asthma control with a good safety profile. However it is obvious that severe asthma in children, which is a complex disease, must be referred to a specialized pediatric asthma center where several other drugs, Mepolizumab, Benralizumab but also Lebrikizumab, Dupilumab, Tezepelumab, Reslizumab, could be studied in teenagers and benefit younger children in the near future, taking also into account their efficacy, their safety and their high cost.




A novel cytokine IL-35, produced by Tregs (iTR35) cells has a protective role after sublingual immunotherapy
Shamji et al JACI 2019 3 1131-1142

Sublingual grass pollen immunotherapy (SLIT) is definitely regarded as an effective treatment for seasonal allergic rhinitis.

The British authors followed up 16 patients receiving grass pollen SLIT, 16 untreated patients and 16 non-atopic control subjects. The mechanisms underpinning the clinical short and long-term benefits of SLIT after cessation of treatment are now well defined

1) IL-35, a member of the IL-12 superfamily of heterodimeric cytokines consisting of p35 and Ebi3 subunits, suppressed innate and adaptive allergic responses mediated by group 2 innate lymphoid cells and TH2 cells in patients with seasonal allergic rhinitis

2) IL-35 suppressed IgE production by B cells from untreated patients with grass pollen allergy

3) Compared with nonatopic control subjects, IL-35–producing regulatory T (iTR35) cells which were dysregulated in patients with grass pollen, recover their capacity after SLIT to produce IL-35.

This study confirms the significant role that IL-35 and iTR35 cells may play in the beneficial effects of SLIT.


Your comments and questions are welcome at the following addresses:
Claude Molina -

claude.nelly.molina@orange.fr


Jacques Gayraud - gayraud65@wanadoo.fr





Please find the previous bibliographic updates of allergology below:
- Archive of 2018
- Archive of 2017
- Archive of 2016
- Archive of 2015
- Archive of 2014
- Archive of 2013
- Archive of 2012
- Archive of 2011
Last updated 25 March 2019