100 years of
allergen immunotherapy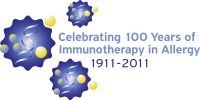 Very few medical treatments can claim to be a century old, but this is the case of allergen immunotherapy. But don't be mislead and think that being "old" means that it is "old fashioned"! On the contrary, the field of allergen immunotherapy has experienced a quantum leap in the last years, and is still on the move in order to improve safety, efficacy and "comfort" for the allergic patient.
Improved understanding of immunology has shown a great deal about the underlying mechanisms involved in allergen immunotherapy; however, despite these developments, a number of important questions remain unanswered.
In 1911, The Lancet published the first original paper by Leonard Noon describing the use of allergen extract injections to treat hay fever in a similar fashion to the recently established vaccine strategy to prevent infectious diseases. To celebrate the anniversary of allergen immunotherapy, EAACI developed a number of initiatives:


EAACI Summit on allergen Immunotherapy

In February 2011, the EAACI Summit on allergen immunotherapy took place in Geneva, gathering some experts in the field and other stakeholders such as patient representatives, regulators and allergen manufacturers. The current status of different issues regarding immunotherapy was discussed, assessing certainties and controversies, identifying niches for further research, while established knowledge was set "black on white".


100 Years of Allergen Immunotherapy EAACI Celebration: review of Unanswered questions
The resulting output of the EAACI Summit on allergen immunotherapy, the document "One hundred years of allergen immunotherapy European Academy of Allergy and Clinical Immunology celebration: review of unanswered questions", was published in Allergy. Read it here.


A European Declaration on Immunotherapy

EAACI prepared a pivotal document: A 'European Declaration on Immunotherapy', which was co-signed by EFA, the European Federation of Allergy and Airway Diseases Patient Associations, and GA2LEN, an EU-supported Network of Excellence. The aim was to provide a robust statement on the use of immunotherapy, its availability for allergic patients, and the need for resources to fund research, among other points. It was signed by national and supranational allergy societies, patient organizations, allergen manufacturers and other third parties. Read it here.


Leonard Noon Award
In a festive spirit EAACI made a call for the "Leonard Noon Award" which was granted to Dr. Alfred William Frankland, an outstanding personality in the field of immunotherapy. Read more here.

... Noon was a 100 years ago and dawn is now!



Last updated 30 September 2019