Find the EAACI Corporate Materials here
The European Academy of Allergy and Clinical Immunology (

EAACI

) is an association of clinicians, researchers and allied health professionals, dedicated to improving the health of people affected by allergic diseases.


With more than 11,000 members from 124 countries and over 50 National Allergy Societies, EAACI is the primary source of expertise in Europe for all aspects of allergy.




Allergic and immunologic diseases represent current crippling or life threatening conditions, and are a cause of worldwide concern. EAACI's mission is to provide the most efficient platform for scientific communication and education in the field of allergy and immunology, ultimately striving to ease the lives of patients suffering from these diseases.


-
What We
Do?
In pursuit of our mission, we seek to accomplish the following

aims

:

Promoting basic and clinical research

Collecting, assessing and disseminating scientific information

Functioning as a scientific reference body for other scientific, health and political organisations

Encouraging and providing training and continuous education

Promoting good patient care in this important area of medicine
-
What Is Our History?

EAACI was founded in 1956 in Florence, its Constitution and By-Laws were registered in Utrecht in 1957. Since then, it has grown to become the largest medical association in Europe in the field of allergy and clinical immunology.

Click here to download the EAACI History.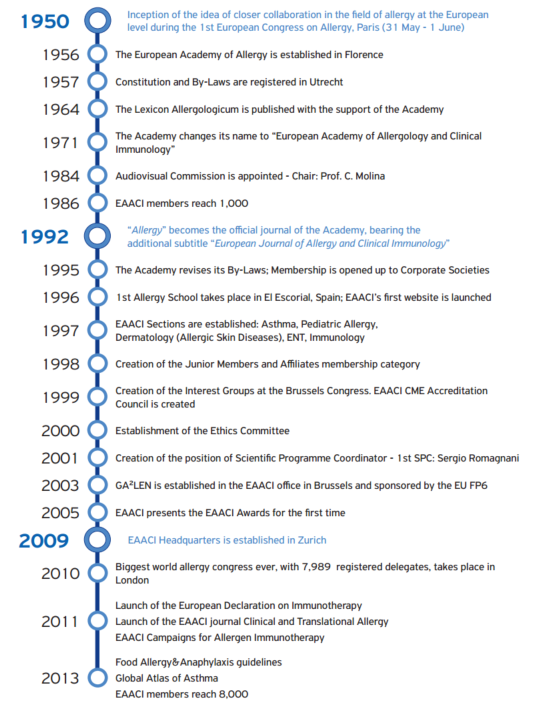 Last updated 13 September 2019