EAACI Master Class on Biologicals
Personalised Treatments of Chronic Inflammatory Upper and Lower Airways Disease:
Biologicals, Immunomodulators and Other Targeted Therapeutics
13 - 14 April 2018 Prague, The Czech Republic

Organised by:
Asthma Section, ENT Section, Basic & Clinical Immunology Section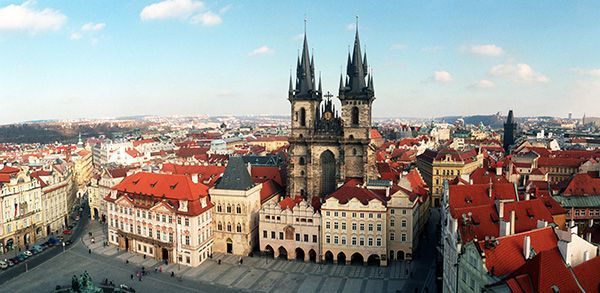 Educational Aims:
The increasing insight into the genetic, innate and adaptive mechanisms and their interaction with the environmental factors in asthma and allergic disease gives rise to targeted treatments. This master class will review and highlight important aspects and novel insights into the basic mechanisms and how they translate into the clinical presentation of (non) allergic asthma and rhinitis. In addition, novel targeted therapeutic options, including biologicals, anti-mediator drugs and immunomodulators, will be addressed while experience with these agents in clinical practice will be discussed in plenary sessions and workshops.

Expected Learning Outcomes:
We anticipate that the set up and the topics in this master class will broaden insights into the underlying mechanisms and the links to targeted therapeutic options for (non) allergic asthma and upper airway disease. The international exchange of clinical experience with these novel agents and discussions on potential future applications should create a platform to define unmet (research) needs.

So, attending this master class the participants will receive updates and gain insight into:

innate and adaptive basic mechanisms in asthma and rhinitis
the role of microbioma within upper and lower airways
the role of biomarkers, phenotypes, and endotypes in precision medicine of asthma and rhinitis available biologicals and their effectiveness in the treatment of asthma and rhinitis (which patients benefit from what biologicals?)
the role of allergen immunotherapy in the treatment of allergic asthma and rhinitis
potential novel therapeutic targets in asthma and rhinitis
how to apply targeted therapy in asthma and rhinitis through case reports and interactive sessions with experts

Target Audience:
Whereas EAACI's allergy schools are tailored for more junior attendees, master classes require a higher level of professional experience and offer an excellent platform for the exchange of knowledge. However, age is not a criterion for exclusion.
This master class is intended for clinicians, researchers and lab specialists who want to learn more about Treatments of Chronic Inflammatory Upper and Lower Airways Disease, focusing on Asthma and Rhinitis.

CME Accreditation:
The EAACI Master Class on Biologicals Personalised Treatments of Chronic Inflammatory Upper and Lower Airways Disease: Biologicals, Immunomodulators and Other Targeted Therapeutics, Prague, Czech Republic, 13/04/2018-14/04/2018 has been accredited by the European Accreditation Council for Continuing Medical Education (EACCME®) with 12 European CME credits (ECMEC®s). Each medical specialist should claim only those hours of credit that he/she actually spent in the educational activity.

Through an agreement between the Union Européenne des Médecins Spécialistes and the American Medical Association, physicians may convert EACCME® credits to an equivalent number of AMA PRA Category 1 CreditsTM. Information on the process to convert EACCME® credit to AMA credit can be found at www.ama-assn.org/education/earn-credit-participation-international-activities.

Live educational activities, occurring outside of Canada, recognised by the UEMS-EACCME® for ECMEC®s are deemed to be Accredited Group Learning Activities (Section 1) as defined by the Maintenance of Certification Program of the Royal College of Physicians and Surgeons of Canada.

For more information regarding CME accreditation, please click here.

Submission of Case Reports:
This master class will include interactive case reports and plenary discussion sessions in which case reports submitted by attendees will be discussed. Case reports can now be submitted by email to education@eaaci.org
Furthermore, the cases can be presented with or without slides and will be discussed with faculty and attendees.

Programme:





The master class will be held over two days and will include lectures, workshops, practical discussions, and case presentations.

Topics covered:

Innate and adaptive Immunity in Rhinitis and Asthma
The Role of Microbiome in Upper & Lower Airways and the Effect of Treatment
Mechanisms driving Corticosteroid Insensitivity
Endotype-driven Treatment – a Step towards Precision Medicine in Asthma
Anti-mediator Approaches for Asthma
Role of Biologicals in Asthma Comorbidities
New Therapeutic Targets: where do we stand? (Includes anti-IL25/anti-IL-33/anti-TSLP; PI3K inhibitors/antibiotics)
Which phenotypes benefit from SCIT; which from SLIT?
Which phenotypes benefit from anti-IgE and which type of anti-IgE treatment?
Which phenotypes benefit from anti-IL-5, anti-IL-4 and/or anti-IL-13)-directed approaches?
Uncontrolled allergic and non-allergic Rhinitis (Includes diagnosis/ Biomarkers; dysfunctional barrier; treatment options e.g. IT, Biologicals, other)
Recalcitrant Chronic Rhinosinusitis (Includes diagnosis/Biomarkers; IT, Biologicals, other)
Endotype-driven Treatment of Chronic Rhinosinusitis with Nasal Polyps (Includes Diagnosis/Biomarkers, Biologicals, Antibiotics, other)

Venue
The master class will take place at the Lindner Hotel Prague Castle at one of the most beautiful locations in Prague.
Address:
Lindner Hotel Prague Castle
Strahovska 128
118 00 Prague
Czech Republic
Website

If you wish to accommodate at the Lindner Hotel Prague Castle for a price of EUR 125 (price per room including breakfast, single occupancy, per night) please fill this form, and send it directly to the hotel at the address provided in the form.

Please note that EAACI cannot be held responsible for any accommodation request/refund.

Registration:
The EAACI Master Class Master Class on Biologicals has reached the maximum capacity and registration is now closed.

Registration Fees:
Early bird registration fees until 2 February 2018:
EAACI Member* / EAACI Junior Member EUR 500.00
Non-Member EUR 800.00

Registration fee after 2 February 2018:
EAACI Member* / EAACI Junior Member EUR 600.00
Non-Member EUR 900.00

*Only EAACI Members who have paid the full amount of their membership fee are entitled to this reduced fee. Please make sure to pay the EAACI membership before you register for this Master Class.

Registration for the Master Class includes:

Coffee breaks (morning and afternoon)
Lunch on Friday and Saturday
Welcome dinner on Friday

The registration fee does not include travel costs and accommodation.

Official Italian Agency for AIFA Procedure
Any Italian pharmaceutical company supporting or participating in a congress abroad, is subjected to an authorization by AIFA (Italian Drug Agency), according to an Italian Government Decree (Decreto Legislativo 219/06 – art. 124).
The request of authorization must be submitted within 60 days before the starting date of the event. The appointed agency to collect all applications from pharmaceutical companies and file them with the AIFA is:

AIM Group International - AIM Education S.r.l.
Valentina Disabato/Cristina Ghidoli
Via G. Ripamonti, 129
20141 Milan, Italy
Tel. +39 02 56601.1
FAX +39 02-70048585
e-mail: aifa@aimgroup.eu

We are looking forward to seeing you in Prague.

Organising Committee

Zuzana Diamant
Local Organising Chair

Oscar Palomares Gracia
Local Organising Secretary

Philippe Gevaert
ENT Section Chair

Martina Vasakova
Asthma Section Board Member

For more information, please contact:
EAACI Headquarters
Hagenholzstrasse 111
3rd Floor
8050 Zurich
Switzerland
Tel: +41 44 205 55 33

Scientific aspects: education@eaaci.org
Logistical aspects: events@eaaci.org


Potential Conflict of Interest Declaration
The European Academy of Allergy and Clinical Immunology (EAACI) takes pride in offering scientific educational events of the highest standard. In accordance with UEMS criteria EAACI dutifully request all committee and faculty members to declare any interests they may have which could influence, or might be perceived to influence their judgement or behaviour.

Please click on the following links to view the respective Conflict of Interest forms.
- Committee
- Faculty


This section contains information that is promotional in nature, distinct from the scientific/educational content.

This event is organized by EAACI with funding support from Novartis Pharma AG and ALK.
Last updated 12 October 2018