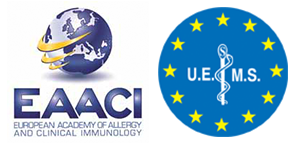 EAACI has held the European Examination in Allergology and Clinical Immunology annually since 2008. Many candidates and members of numerous National Societies have already successfully passed the exam.
The exam is based on revised questions from a question pool prepared by EAACI Task Force members and members from different European centres. These questions are constantly updated and revised. The questions address topics of allergology including allergens, dermatology, respiratory and pediatric allergy, anaphylaxis, venom hypersensitivity, drug and food hypersensitivity. Furthermore, issues such as pregnancy and allergology, occupational allergies, eosinophilic disorders, mastocytosis, and CI-INH deficiency are covered. It also assesses basic immunology and clinical immunology (auto-immunity and immune deficiency). The exam lasts for three hours and has 120 multiple-choice questions, all in English.
The EAACI/UEMS Knowledge Examination in Allergology and Clinical Immunology takes place every year during the EAACI Congress. It does not replace or provide a substitute for existing national examinations held regularly by national bodies, although we expect it to help raise the standard of Allergology and Clinical Immunology in Europe.